Tools for tapping into a tree.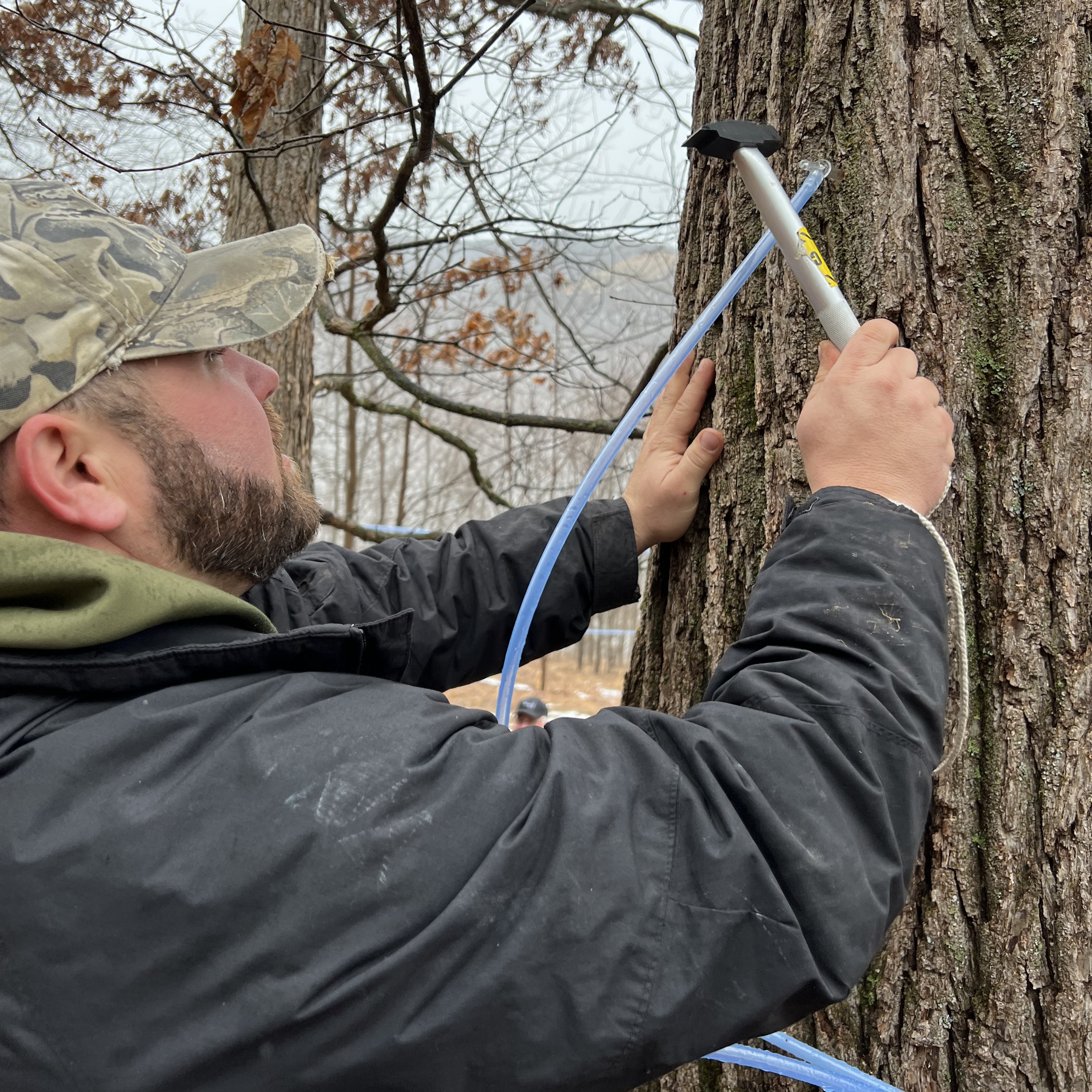 Q: HOW DO I TAP A TREE?
A: Make sure the tree is at least 10 inches in diameter. Don't place new tap holes within 6 inches horizontally and 2 feet vertically from old tap holes. Using a drill bit that matches your tap size, drill straight into the tree to a depth of 1.5 to 2 inches, depending on the type of tree. Carefully drive a spout into the hole. In walnut, it is recommended to drill through the sapwood to the heartwood. There is no need to go any deeper—the heartwood is dead and yields no sap. To do that you have to know the thickness of the sapwood of your trees. As a practical measure, drill depth is being set at 2.5 inches for walnut trees. It is important to place your drill in a bark crevice.
Q: WHAT DO I USE TO COLLECT THE SAP?
A: Any food grade container. Do not use plastic containers that are not intended to hold food. Be cautious around old galvanized metal maple syrup buckets—they may contain lead.
Q: WHEN IS THE BEST TIME TO TAP?
A: Sap runs when nights are below freezing and daytime temperatures are in the 40s.
Q: HOW MUCH SAP CAN I EXPECT?
A: Generally, one tap will produce about one gallon of maple sap.
Q: CAN I LEASE MY TREES?
A: Absolutely—many producers lease from landowners.
Depending on the demand for trees to lease, a landowner can expect from $0.50 to $1 per tree. A good sugarbush can have 70 taps per acre, realizing an annual income to the landowner of $35 to $70 per acre.
For more information on tapping, contact Future Generations University at syrup@future.edu.
---
READY TO BLAST OFF?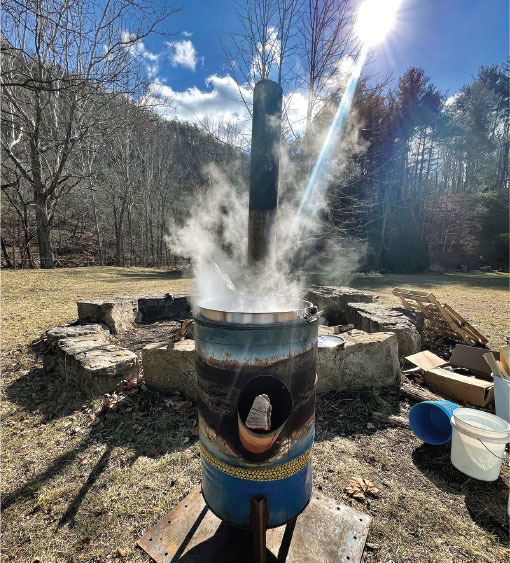 Developed by Future Generations University with support from the Claude Worthington Benedum Foundation and in collaboration with the Robert C. Byrd Institute of Advanced Manufacturing, these plans and instructions will get you "on the launch pad" and ready for the delicious and fun activity of making tree syrup.
The Rocket Sap Evaporator is a stove designed to provide a fast and vigorous boil with near-complete combustion, resulting in efficient wood use. Based on rocket stove principles, this sap evaporator was also designed for "backyard" syrup producers and is inexpensive to build and capable of being fabricated by a local welder. If you have up to 50 maple trees or 40 walnut trees in your backyard or neighborhood and some friends or family members who like to hang out and feed a fire, you can make all the syrup you'll need for the year.
---
MAPLE TAPPING SUPPLY CHECKLIST
spouts
Drill and Drill Bit
Hammer
Buckets with lids or tubing
Storage container for sap
Evaporator or pan to boil sap
Hydrometer and cup
Filters or cheesecloth
---
Real maple syrup contains

READ MORE ARTICLES FROM WV LIVING'S WINTER 2022 ISSUE