A monumental commitment to the region's kids, the new WVU Medicine Children's hospital is our West Virginian of the Year for 2022.
In 1986, when Jason Hostetler was not quite a year old, his parents took him to West Virginia University Hospital for a checkup with Dr. William Neal. Neal wasn't a general pediatrician. He was a pediatric cardiologist, and they went to him because Jason was born with pulmonary atresia: A heart valve hadn't formed properly, so blood couldn't flow properly from his heart to his lungs to get oxygen to his body.
Jason had already had two heart surgeries in his young life, and his parents thought he was stable for now. But actually, no: He needed a third, Dr. Neal told them. Right away. And this one would be the most complicated yet.
The Hostetlers sent Jason's X-rays everywhere, including to a pioneer in neonatal cardiac surgery, Aldo Castaneda at Boston Children's Hospital. "Dr. Castaneda said, 'I can do the surgery. You'd be away from home, and there's all this after-care,'" Jason's father, Jeff Hostetler, recalls. "'But I can tell you right now, you have one of the best technical surgeons right in your hometown. I know, because I trained him.'"
That was WVU Hospital pediatric heart surgeon Robert Gustafson. "Dr. Gus" performed the complex 11-hour surgery perfectly.
If you're a football fan, you know Jeff Hostetler was a star quarterback for the WVU Mountaineers in the early '80s and later earned two Super Bowl rings. You probably know that his wife, Vicky, is the daughter of revered Mountaineer football coach Don Nehlen. You may even know Jason's story.
What you may not know is the profound effect it had on the Hostetlers to get world-class care right here in West Virginia. Hostetler was playing for the Giants at the time—the family could have moved to New York or Boston or anywhere. But they wanted to live here. And because of the expert medical attention available here, along with the deeply genuine caring of doctors Neal, Gustafson, and others, who became family friends, they didn't just stay in Morgantown—they became lifelong champions of WVU's children's hospital.
The Hostetlers happen to be a celebrity example. But they could be any family—any of the thousands of West Virginia families each year that are struck with scary pediatric medical conditions. With exactly those families in mind, WVU Medicine opened the doors wide in September on a brand new facility: WVU Medicine Children's hospital, our 2022 West Virginian of the Year.
Standing On The Shoulders
One Friday afternoon in August 2014, the newborns in the neonatal intensive care unit spoke to Albert Wright. Not verbally, of course. Even so, it was powerful.
Wright was the brand-new president and CEO of WVU Medicine. He was taking his first tour of WVU Children's Hospital on the 6th floor of J.W. Ruby Memorial Hospital so he could speak knowledgeably at a fundraiser in Wheeling the following day.
"The babies were so small, just the size of my fist—we're talking children who would stay maybe three to six months in the hospital," he remembers. "I saw the attention of the nurses taking care of them, and so many people who came in as sitters and cuddlers." He was reminded of his own newborn's couple days' stay in a NICU. "I put myself in the shoes of other families—you're scared to death for your child, but, because they're in that 'fishbowl' rather than an individual room, you can't stay with them."
Wright spent the whole afternoon touring the pediatric hospital-within-a-hospital. All of the four care units—the NICU plus the birthing center, pediatric intensive care, and pediatric acute care—were in high demand, operating on average at above 70% capacity. By the end of his tour, he had begun to envision a new hospital. "I recognized that we needed to shine a light on these pediatrics programs and build something transformational for the state."
It was the natural next step for a vision that had begun with Dr. Neal. Back in the mid-'80s, when young Jason Hostetler had his surgery, children at University Hospital were treated for their conditions in the corresponding adult departments. Dr. Neal was chairman of the Department of Pediatrics at the time and, when the new Ruby Memorial Hospital was planned, he lobbied to bring the children's units together on one floor. That consolidated WVU Children's Hospital opened with Ruby in 1988—and Neal served as its first medical director.
Three decades later, and three years after Wright's tour, in November 2017, WVU Medicine announced it would expand Neal's one floor to 10 in a new, freestanding children's hospital.
"Pinch me—is this real?" Dr. Charles Mullett says he thought at the time. Mullett is Neal's stepson and, in 2017, he had followed in Neal's footsteps to become chairman of Pediatrics. "We weren't big enough to care for all of the needs, and patients were having to travel to out-of-state children's hospitals for care," he says. "This was us deciding as an institution that it was time to put an end to that—that we're the mission-centered, land grant university academic health system, it's our job to take care of West Virginians, and here's what we need to do."
The new hospital was projected to cost $150 million, $60 million of it to be raised directly from people in the hospital's service area in West Virginia and beyond. It was a daunting figure—but planners were emboldened by the network of organizations that already raised money year after year for the hospital's programs: The Hostetlers' HOSS Foundation, the WVU Medicine Children's Hospital Gala, and the annual Q for Kids Radiothon among them.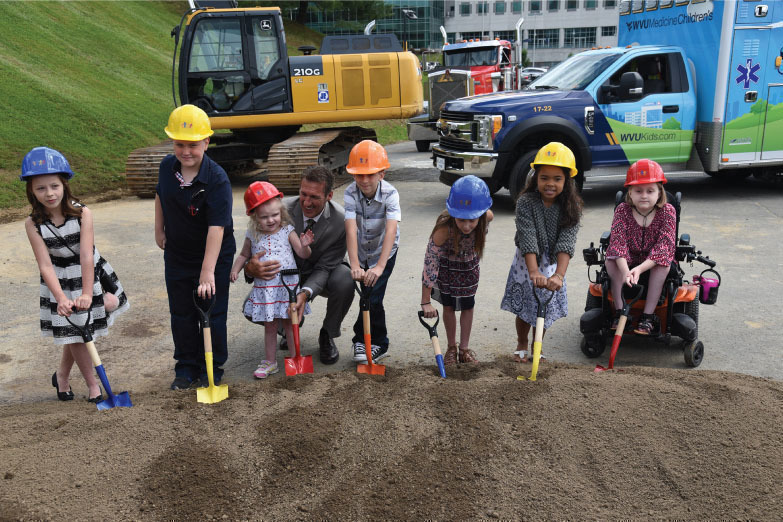 Hostetler stepped up to raise the money. He was joined by Steve Antoline—founder of Superior Highwall Miners of Beckley and, like Hostetler, a WVU alum and longtime children's hospital supporter—in co-chairing the $60 million Grow Children's campaign.
One Brick, One Bond At A Time
West Virginians glimpsed milestones as the building took shape. We saw it kick off in June 2018, when seven kids, current and former patients, wielded shovels at the groundbreaking. The first steel beam went up in December 2019, and, in June 2020, a "topping out" ceremony placed the last one on top—the 100 or so attendees wearing masks as they signed the beam, because now this was happening in a pandemic. COVID-19 led to cost increases and supply chain delays, but work continued, and the first brick was laid in January 2021.
Meanwhile, through four-plus years of construction, Hostetler and Antoline spearheaded the lively public education and fundraising campaign. They gained an enthusiastic partner in Amy Bush, who became chief operating officer of WVU Medicine Children's in July 2018 as construction got underway. "I've worked with Amy for many, many years," says Wright, who'd recruited her to WVU Medicine in 2015. "I needed someone I could trust to make the hospital perfect, and she's one of the most talented, dedicated operational leaders you'll ever meet."
Bush had the major task of overseeing the operation of the existing hospital and the construction of the new one, but she also loved working with Hostetler and Antoline to tell the hospital's story to potential donors. "Jeff has all the sports connections, and he could just talk off the cuff and really get crowds fired up," she says. "Steve has a beautiful lodge down near the New River Gorge, and he would hold events and have 100 or 200 people come in." It was really about building relationships, she says. Building those relationships through everything from individual phone calls to corporate tours to media events, the fundraising team blew past its $60 million goal and hit $80 million in support of the facility and its ongoing programs before the doors were open.
"In spite of some difficult economic times, people gave their time, money, and resources so generously and graciously," says Antoline, who found the experience enormously rewarding. "For that, I am so proud to be a West Virginian and to be a partner with all of those supporting Team Children's."
How To Open A Hospital
1. Set up an incident command center to handle glitches; this one was on the 10th floor.
2. Migrate the existing operation—the WVU Medicine Children's team moved 99 patients the morning of September 29, plus two who transferred in.
3. Open the doors.
No need to wait long. Staff performed 19 surgeries on opening day—plus three CAT scans, three endoscopies, four fluoroscopies, eight MRIs, 10 ultrasounds, 19 echocardiograms, and 21 X-rays. 79 new pediatric and 48 new maternal-fetal patients came from as far away as Huntington, West Virginia, and Hagerstown, Maryland, and they included 18 emergency room intakes and one critical-care transport—and, excitingly, the first baby born in the new hospital.
That was just the first eight hours.
From the construction to the move to the new operation, Bush is widely acknowledged to have orchestrated a logistical triumph. And the hospital itself is everything Wright and his team wanted:
A comprehensive building Dedicated pediatric emergency facilities, operating rooms, imaging, and much more—plus a cafeteria and pharmacy. "There's essentially no reason a child needs to leave this building and go into the main hospital," Wright says.
Maximal support for kids and families "This hospital was built using evidence-based design that creates the ultimate healing environment—and that gives our care teams an extra advantage," Bush says. Natural light fills the hospital. All of the rooms are private, so parents—yes, even NICU parents —can stay with their kids. In the patient rooms, kids can control the lighting colors and patterns and decorate white boards. Giving kids agency extends all the way to touches like a practice CAT scanner—a "kitten scanner"—they can get comfortable with on their own so they won't need to be sedated for the real procedure.
A source of pride for decades to come The new building is one of just 25 pediatric hospitals in the nation attached to a major academic hospital.
Capping off the family-centered design is the sports-themed Hostetler Family Resource Center on the 10th floor. The FRC embraces all patients and families as fellow Mountaineers and offers everything from drop-off for siblings of patients to kitchen and laundry facilities to computers for tasks like registration at Ronald McDonald House and access to MyWVUChart.
But possibly most important is the number of patients who, because of greater depth of subspecialization, can be treated not out of state, but here at home. "Probably in the 500 range. A year," Wright guesstimates. "Probably 200 in the heart program alone."
Care That Spans Generations
After 1986, Jason Hostetler didn't have to have another heart surgery until 2016. When he did, it was again Dr. Gus who performed it.
That's what really strikes you about this hospital—it's not so much anchored, as you might think, by a building and technology; rather, it's anchored by people: a community of medical professionals, staff, and supporters who are committed long-term to the region's kids.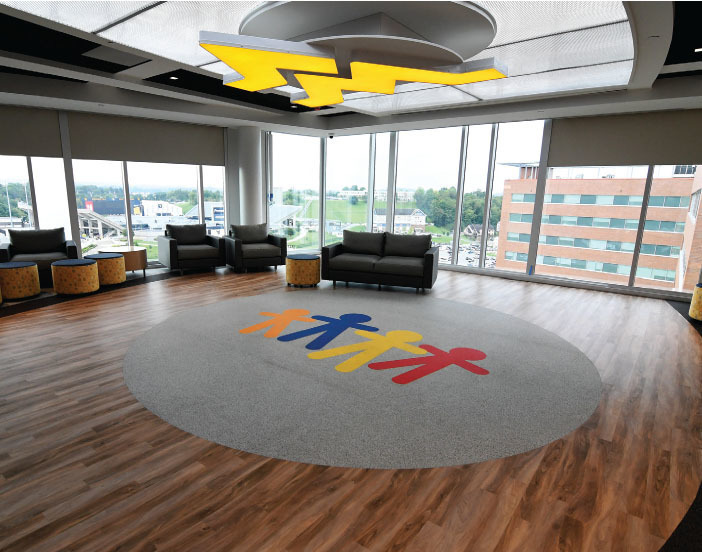 The hospital's 1,400 staff barely got into the new space before the surge in respiratory syncytial virus, or RSV, strained both human and institutional capacity. Wright had complete confidence. "When you work at the academic medical center of the land grant university of the state of West Virginia, this is what you do," he said. "Staff got busy right out of the gate, and they're excited to be part of it."
Dr. Neal passed on in 2021, but he participated as late as 2020 in the recruitment of a pediatric heart surgeon and was thrilled about the new hospital. "He would be so proud of everybody involved," Hostetler says. "His vision led us to where we are now. We are blessed to have this type of West Virginian impacting our families and kids in such a great way."
READ MORE ARTICLES FROM WV LIVING'S WINTER 2022 ISSUE